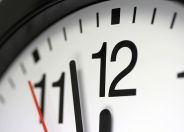 Turkish Development Minister Cevdet Yılmaz has said the government plans to decrease the maximum hours worked per week by three to four hours in order to boost employment, the Sabah daily reported on Monday.
Yılmaz said current legislation on working hours has prevented a decrease in Turkey's unemployment rate. "There is a system which encourages long working hours rather than more employment. This is not sustainable," he said.
The minister added that the government aims to encourage more people to work with the planned legislation. Deputy Prime Minister Ali Babacan also said earlier that reducing weekly working hours by even four hours could bring the unemployment rate down by 3 to 5 percent.
Working hours in Turkey are regulated on the basis of Law No. 4857 of the Labor Law, which was enacted in May 2003 to replace Law No. 1475, in effect since 1971, and the Regulation on Working Time Relating to the Labor Law, adopted by the ministry in June 2004. Article 63 of Law No. 4857 limits the maximum number of hours worked per week to 45, unchanged since Law No. 1475, with several exceptions and exemptions. Although working time is limited to 45 hours per week, in practice people often work as many as 49 hours in both the private and public sector.