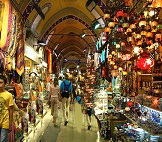 Grand Bazaar, one of the largest and oldest covered bazaars in the world, draws more visitors than any other market in the world, according to the head of the tradesman's association. Thirty years after its last restoration, the facility is about to receive a new facelift.
The Grand Bazaar employs 25,000 people and features 64 avenues and streets, two covered bazaars, 16 khans and 22 gates containing its 3,600 shops.
Istanbul's Grand Bazaar continues to be the most visited covered bazaar anywhere in the world, drawing more visitors than any modern or ancient shopping facility, according to the head of the Grand Bazaar Artisans Association.
"It was established 550 years ago and is the world's first and largest bazaar. There is no other bazaar in the world with 3,600 places of businesses. There are 1,200 places of business in [in a large shopping center] in the United States," said the association's chairman, Hasan Fırat. "The Grand Bazaar cannot be compared with a shopping mall because it has historical and cultural value as well as the traditions and customs of artisans in it."
The bazaar in Istanbul's historical Fatih district employs 25,000 people and features 64 avenues and streets, two "bedestens" (covered bazaars), 16 khans and 22 gates containing its 3,600 shops.
The bazaar "was the most visited place in the world this year," Fırat said, adding that it still retained its importance in the economy even as the number of shops catering to tourists had increased.
One thing that is unique about the Grand Bazaar is that fiduciary shopping still continues at the facility, Fırat said, noting that it was difficult to find such a system of transactions anywhere else in the world.
"Artisans give gold and money to each other and promise to give it back. You cannot see such a relationship in the world," Fırat said. "There is a settled system here. There are many shops where credit cards are not valid."
At the moment, the bazaar is preparing for a restoration that will commence at the beginning of 2012, the association head said.
The bazaar last underwent maintenance in 1980; once the proposed restoration is completed, the bazaar will regain its original look of half a millennium ago, according to officials.
The restoration project is expected to cost nearly 15 million Turkish Liras and is slated to update all the facility's infrastructure, heating and lightning systems.
The bazaar's dome, which was altered in 1980, will also be made to reflect its original form.