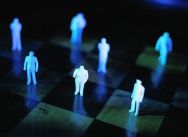 John Sweeney makes no bones about it. "Thirty years ago, HR was a backwater operation," says the human resources veteran who now works at the Society for Human Resources Management near Washington.
"It was totally paper-oriented. In the old days you used to put an [advertisement] in the paper, saying 'we need 10 widget makers or a senior executive', then you would wait seven days and when the mail comes in you started looking through the résumés."
This is changing. "Human resource management is evolving into a more technology-based profession," he notes. "For example, in many organisations, employees now see the face of HR as a portal rather than a person."
Early HR information systems mostly ran on the same hardware as finance and enterprise resource planning (ERP) systems, but today's technology is moving rapidly to web-based systems to deliver data and services such as employee self-service (ESS), online recruiting, web-based training, online applicant testing and benefits management.
"At the centre of a lot of the work that we do is the traditional information system that still enables us to track employees and categorise information that we need for our clients… [and] that system is integrated with our financials," says John Robak, chief operating officer of Greeley and Hansen, an environmental and engineering consulting firm.
Like many companies, Greeley and Hansen has outsourced its payroll function, but Mr Robak says the greatest advance in the past couple of years has been moving benefits administration to an employee self-service portal that allows employees access and to make changes securely from any web browser whenever they want.
The portal has proved popular. "When [employees] are making decisions about their benefits they can sit with their family or their spouse and do it from home, or look at the choices that are available to them and enter information," notes Mr Robak.
But not all employees are familiar with, or have access to, desktop PCs or laptops. Kathy Herndon, an HR infor¬mation technology specialist with Kimball International, an electronics and furniture manufacturer in Indiana, wanted to introduce a self-service payroll system but faced a problem.
Under Ms Herndon's direction, Kimball had moved from local factory-based HR to a centralised system to make it easier to document compliance with labour laws and other regulations and it had outsourced payroll to ADP, the employer services company.
But there was a problem – many of the factory workers did not have PCs at home. So, beginning in the mid-1990s, Kimball installed self-service kiosks on factory floors to provide employees with access to the ADP system.
"It was a big turning point," she says, but adds that many other manufacturing companies are still struggling to make that transition.
Since then, Kimball has gone further, introducing a centralised online document repository to make it easier for plant managers to access HR documents, and an applicant tracking system that helps the company demonstrate compliance with affirmative action requirements and other labour laws.
Other companies, such as Makro the UK cash-and-carry wholesaler, have used IT to transform their recruitment process.
When Nicola Lake joined the company three years ago as head of resourcing, it did not have a recruitment department. "HR at the time basically had a generalist role and dabbled in recruitment," says Ms Lake, who had previously been in charge of recruitment at Atkins, an engineering consultancy.
"So, my brief was basically to set up the recruitment department from scratch and bring to the company a half-decent return on investment."
Until her arrival, recruitment at Makro which has 30 stores and 5,000 employees, had been a rather haphazard affair undertaken mostly at individual store level.
Ms Lake built a small HR team and started examining recruitment processes.
"We were receiving between 200 and 250 CVs a day to an Outlook [e-mail] account, so it was very, very archaic," she says. It took one full-time worker just to sift through those CVs and send them to the appropriate store or the head office.
Makro wanted to improve its image as an employer and introduce a recruitment system that would support its HR strategy of bridging the gap between acquiring and managing its employees.
So, in June last year the company launched a recruitment section on its website and introduced a recruitment system based on software from StepStone Solutions.
The system feeds vacancies posted on the Makro careers website to LinkedIn, Twitter and the job sites that Makro uses, including Monster and Totaljobs, publicising opportunities to a much wider audience.
It also allows Makro to send job vacancies to traditional recruitment agencies if required, and has proved more successful than Ms Lake expected.
Since it went live, 23,000 applications have been processed via the system, 324 people have been recruited through the website and Ms Lake says it has saved the company more than £750,000 ($1.2m) in agency fees.
In addition Ms Lake says, "the quality and the calibre of candidates is much better".
The emergence of a number of fast-growing 'talent management' specialist software and IT services companies such as SHL, Taleo and SuccessFactors underscores the rapid changes under way in the HR.
"Human resource information systems have altered how HR services are delivered and managed by organisations," says the Society for Human Resources Management.
"Used effectively, these systems make the HR function more efficient, better informed and able to communicate accurately how it adds value to the organisation. However, to reap the full benefits of implementation, HR executives must combine the best of HR technology with effective management processes, and they must be ready to manage the challenges created."
Scot Marcotte, an industry veteran who works for Buck Consultants, an HR consultancy, goes further.
"We are finding that it is no longer just about efficiency.
"It is all about outcomes: how we can help a business or organisation drive cost-savings and productivity and help plan its resources and talent on a global scale."