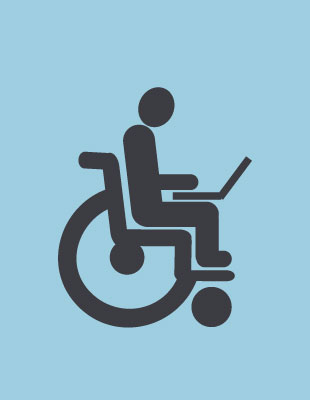 One of the major problems in society is the social and economic deprivation of disabled individuals.
Therefore some affirmative actions are being taken in all countries to provide opportunities for persons with disabilities to be productive and integrated with the society. And the best way of ensuring their employment is imposing obligations on establishments.
Turkey has signed the UN Convention on the Rights of Disabled, whose Article 30th lays down the criterions for individual with disabilities and obligation of employing disabled persons is arranged in Labor Law No. 4857, Article 30.
CONDITIONS FOR BEING OBLIGED TO EMPLOY DISABLED
In private sector workplaces employing fifty or more employees within the boundaries of a province, employer must employ disabled persons, numbers of which cannot be less than the %3 of total employees. In calculation of percentage the fractions above half should be increased upward (one) and the ones less than half should not be taken into consideration. For example, in a workplace employing 70 personnel, the number of disabled to be employed should be minimum 70*%3=21, i.e. 2.
For employers with more than one establishment within the boundaries of a province, the number that the employer must employ shall be computed according to the total number of employees regardless of their type of contract.
PRIORITIES
If an employee becomes disabled during his/her employment he/she should be given priority and may be included in number of disabled employees.
The employer must give priority to applicants who have left his establishment because of disablement but who have later recovered should they wish to resume their old jobs, either immediately if vacant positions are available, or if not, when vacancies occur in their previous jobs or in other corresponding jobs, subject to the prevailing conditions of employment. Should the employer fail to respect his obligation to conclude the said employment contract despite the existence of the above, he shall pay his ex-employee the compensation equal to his six months' wages.
HOW TO RECRUIT?
Employer may employ disabled individuals by using his own channels or through İŞKUR, Turkish Employment Agency. Employer may join the meeting arranged by İŞKUR to meet the disabled persons who are seeking job, or may obtain the list of these individuals' CV to choose appropriate candidates for their vacancy.
In case of employing a disabled person that employer has found by using his/her own channels, new starting disabled employee should be notified to Provincial Employment Office within 15 days. Otherwise employer will not be deemed fulfilling his/her obligation.
ADMINISTRATIVE FINES
Administrative fine for not fulfilling the obligation of employment of disabled is laid in Article 101 of Labor Law No. 4857, which reads as follows;
"The employer or employer's representative who does not employ disabled persons in contravention of the provisions of Article 30 of this Act shall be liable to a monthly fine of 2.095 TL (for the year 2015) for each disabled person for whom this obligation is not fulfilled. "
This fine is applicable for each not employed disabled personnel and for every month.
RESTRICTIONS ON EMPLOYMENT OF DISABLED
The jobs disabled person assigned must be consistent with their occupational skills and physical and mental capacities.
Disabled personnel cannot be forced to work on hazardous and hard works without a health report stating that he can work on these types of tasks.
No disabled person shall be employed in any underground and underwater work, and employees engaged in underground and underwater works shall not be taken into account in determining the number of disabled employees.