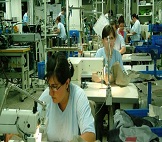 While leading European economies are taking austerity measures to face the debt crisis, Turkey plans to increase its 2012 budget and public employment.Turkey plans to increase the size of its 2012 central government budget by 12.25 percent over the 2011 budget in addition to hiring 90,000 more people for the public sector, Turkish Finance Minister Mehmet Şimşek said yesterday.
"The 2012 budget is one that aims to increase savings, decrease the foreign account deficit, focus on economic and social progress, improve the public finance balances and allocate resources to investments that will allow our country to take steps forward," Şimşek said.
The budget expenditures for 2012 are forecast to come in at 350.9 billion Turkish Liras, compared to 312.6 billion liras in 2011, according to the draft law for the 2012 central government budget presented to the Turkish Parliament by the Finance Ministry. Non-interest expenditures are expected to amount to 300.6 billion liras in the planned budget.
Meanwhile, there will be an estimated 329.8 billion liras in budget revenue next year, compared to 279 billion estimated for 2011. Some 277.7 billion liras of the revenue are expected to be collected from taxes.
The budget deficit is expected to be 21.1 billion liras while the non-interest surplus is forecast at 29.2 billion liras for next year.
Increase in public sector employment
While leading European economies and neighboring Greece are cutting jobs and implementing austerity measures, Şimşek said Turkey planned to employ 90,000 more people in the public sector in 2012.
The plan has drawn criticism, however. One must consider whether there is a real need for these people to be employed in the public sector, according to Ertuğ Yaşar, an Istanbul-based economist.
Such a massive intake of employment should only be carried out if the workforce cannot be absorbed by the economy, Yaşar said, adding that more harm could be done to the economy if the hiring stemmed from mere populism.
"Labor in the public sector is inefficient all over the world and must be decreased as much as possible," Yaşar told the Hürriyet Daily News in a phone interview yesterday.
The Finance Ministry is expected to be the largest recipient of funds from the budget at 88.5 billion liras compared to 72.1 billion liras in the 2011 budget. It is followed by the Education Ministry, which is expected to receive a total sum of 39.2 billion liras for 2012. While 8.8 billion liras have been set aside for the newly created Family and Social Policy Ministry, public expenditures in the Health Ministry are being reduced to 14.35 billion liras in 2012 from 17.24 billion in 2011. Expenditures allocated to the Labor and Social Security Ministry are also being reduced to 31.55 billion liras from the 35.85 billion liras in the 2011 budget.
Expenditures set for the European Union and newly established Sports and Youth Ministries, are 151 million and 4.5 billion liras, respectively.
http://www.hurriyetdailynews.com/