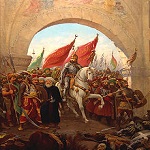 One of New York's most famous museums has opened a number of new Ottoman galleries, naming two of the new venues after the Koç family.
"The New York 'Met' [Metropolitan Art Museum] is one of America's top fine art institutions," Rahmi Koç, the honorary president of Koç Holding, said at the recent opening of the galleries. "It is one of the best art museums in the world, with a collection of almost 3 million objects covering virtually every era and culture and attracting more than 5 million visitors each year."
MET Chief Executive Officer Thomas Campbell said "they were honored to open 15 new galleries in the museum" and added that they aimed to reflect the importance of Islamic arts and culture.
The opening of the new galleries during the Arab Spring was also an important development, he said. United States House of Representatives member Carolyn Maloney said "the MET was a diamond and that the new galleries would help increase the number of visitors."
http://www.hurriyetdailynews.com/