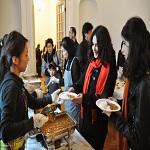 Japanese volunteers living in Istanbul held a gathering Monday to serve to raise funds for people affected by major quakes near the eastern Turkish city of Van last month and earlier this month.
Several hundred people, including Japanese expatriates and locals, participated in the gathering, which helped deepen ties between the two quake-prone countries.
For the event, held at the former Japanese Consulate General in Istanbul, about 250 servings of curry were prepared by Japanese housewives and volunteers.
While the organizers believed the amount of curry made was enough to feed about a quarter of the Japanese residents in the city, the event turned out to be extremely popular and everything sold out in about two hours.
A 28-year-old Turkish office employee said the Japanese curry was delicious, as it tasted similar to a Turkish dish. She said she was glad that the Japanese thought about her country.
"In the (March 11) disaster that hit northeastern Japan, many Turks gave us words of encouragement," said Kiyomi Ishida, 52, a Japanese housewife. "Now is our turn to return the favor."
http://www.japantimes.co.jp