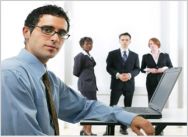 How to help executives make well-informed decisions about the workforce
Top Business Challenges for Today's CEO
The current economic environment has forced CEOs to focus almost all of their attention on revenues and profitability. They must be very aware of what competitors are doing— and competitors can be anywhere in the world. Additionally, executives are watching the government for indications of changing regulations and tax issues.
What the C-Suite Worries About
Top Threats to Business Growth Cited by Chief Executive Officers (CEOs)
65% Protracted global recession
60% Over-regulation
59% Lack of stability in capital markets
54% Low-cost competition
54% Energy costs
51% Availability of key skills
49% Protectionist tendencies of government
40% Inflation
Top Concerns of Chief Financial Officers (CFOs)
External
Federal Government agenda/policies
Consumer demand
Price pressure from competitors
Internal
Maintaining profit margins
Rising healthcare costs
Low employee morale
What the CEO Wants to Change About Workforce Management
In many ways, the recent economic troubles served to shine a spotlight on workforce management issues for many executives. Whether it was navigating layoffs, reducing labor costs, cross-training employees, or simply keeping the workforce morale up, many leaders found that their organizations were not as nimble or flexible as they would like.
Percentage of CEOs planning "large" or "significant" changes to areas of people management
41% Better managing of people through change
41% Morale and employee engagement
40% Training and development
25% Flexible working environments
22% Collaboration with a network of outside specialists
18% Compensation levels
14% Pension and healthcare benefits
by Sage Abra HRMS