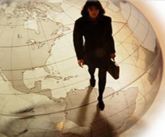 A rising demand for employees in Turkey indicates that the global economic crisis is having less and less of an impact on the country's economy, according to the chairman of a prominent career website.
"The crisis [effects] have diminished and the [need for] employees has risen," Okan Tütüncü, the general director of Secretcv.com, one of Turkey's first human resources websites, said in a press meeting Tuesday that was organized to announce the change of the company's logo.
The number of female members of the site increased by 47 percent during the first half of 2011, Tütüncü said, adding that women's participation in the labor force had also increased with the weakening of the crisis.
Secretcv grew 72 percent during 2011, according to Tütüncü, who said the website posted a total of 62,000 job postings to 186,000 members.
The number of people registered at the website has jumped from 9.2 million to 12 million since the beginning of the year, according to Tütüncü. Some 4.5 percent of the members were below 20 years old, about 34 percent were between 20 and 25 years of age, 38 percent were between 26 and 30 and 20.5 percent were between 30 and 40.
The sector with the largest number of job postings during the first half of 2011 was retail business, followed by textiles; computers, information technology and the Internet; tourism; food; banking and finance; health; construction; call centers and insurance, Tütüncü said.
The job positions most sought after were those in sales, followed by marketing, human resources, call centers and public relations, he said.
Hürriyet Daily News