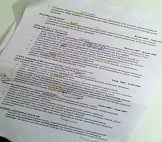 For most of us September is the month that marks the end of summer, start of new school year and hope for new work opportunities. Some of us act fast and begin job search right away, some others procrastinate and postpone looking for career opportunities until the weather feels winter-like in October. If you're one of these October starters, you might like to hear out an expat's September impressions on hitting the job market in Turkey.
Oh September, you do such crazy things to me!
I started toying around with seeing what the corporate job market has to offer and in order to do this properly, I hired a translator and got my three-page resume translated to Turkish. For all job submissions, I'll send both English and Turkish versions as a courtesy for a few reasons. One reason specifically was that nine months ago I did a lot of interviewing and it became apparent that many interviewers either didn't understand all of the details or just didn't read it…in the end I had to do a lot of explaining in Turkish which I wasn't prepared for.
Friends who are HR professionals have told me this is completely not necessary but I've got news for all of you folks, I went on an interview this past Friday and the interviewer walked in with the Turkish version in his hand! The interviewer was fluent in English but I'm going to assume that reading in your native language is 9 times out of 10 easier and quicker!
Some take aways from the experience:
– Find a trustable translator and then have one or two friends review the translations, pay special attention to the technical terms.
– Translations aren't expensive. Depending on who you hire and the word count expect a 50-100TL expense.
– If you don't prepare the Turkish version on your own but verbally, you're fluent, be sure to mention that somewhere on the Turkish version, perhaps on the top, so everyone is on the same page.
– Use this as an opportunity to learn new vocabulary! Whether you decide send out the Turkish resume or not, it's an excellent exercise as you're learning lots of new vocabulary related to your sector and experience. Consider this as a tool and with it you can practice saying vocabulary and phrases out loud which can be used for future interviews.
http://www.istanbulexplorations.com/