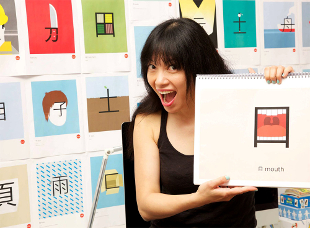 By Ela Erozan Gursel
Chineasy. The winner of the prestigious Wallpaper design award. Short listed nominee for Design Museum's Design Awards 2014. Chineasy is a social project that aims to spread the Chinese language as an easy and fun language all over the globe. Regardless of your interest to learn Chinese, you would be impressed to see how creativity can surpass obstacles – even the Great Wall of China, and even the most boring and complicated subjects can turn into something fun and interesting with the right approach.
The architect of the project is a Taiwanese born Londoner whose admiration for the Chinese language's aestetics, will to teach Chinese in an enjoyable manner, creativity and technical background are melted in this amazing system.
Chinese is considered among the most difficult languages besides Arabic, Korean and Japanese. Other than being a tonal language (4 different tones determine the meaning of almost same sounding words) which is very hard to detect for foreign ears and pronounce for the foreign mouths, Chinese scriptures with ten thousands of characters make the language impossible…
ShaoLan, the founder of Chineasy, proposes a brand new system to learn how to read and write in Chinese: a visual system based on graphical illustrations of Chinese characters which stimulate learners to understand and easily recall the meaning. With the daily posts on Facebook, ShaoLan has been teaching Chinese since last March.
ShaoLan is a very talented professional who has combined her business savy with her educational and technical background. She has written best seller technical books, worked as technical manager and invested in promising start-up. She put a pause on her corporate career and decided to start a design project which aims to teach Chinese to everyone who wants to learn the language. As ShaoLan is the daughter of a Chinese calligrapher, she was raised with an admiration and respect for the Chinese characters. Later on, when she had her own kids living in London, she realized how difficult Chinese language is. So she developed her own system to teach the language in a fun and innovative way.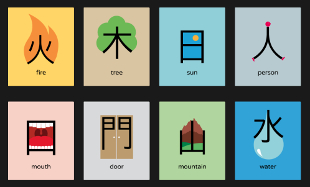 The 8 Radicals in Chinese
These 8 radicals are the foundation blocks to form any words:
1. Mouth; you open your mouth very big, there you have a square.
2. Person; on top draw a head, on the two bottom, put on shoes and you have a walking man.
3. Fire; imagine a man opening his arms wide open and screaming 'fire, I am on fire.'
4. Tree; pick up a green crayola and paint the leaves of the tree.
5. Mountain; just merge the summit with the sides.
6. Sun; look out of the window and see the sun.
7. Ay; moon is the opposite of sun or sun with feet.
8. Door; feels as if you're watching aRedKit cartoon. The doors are from a Western bar – apparently they are originated in ancient China.

Now It's Time to Build Lego Blocks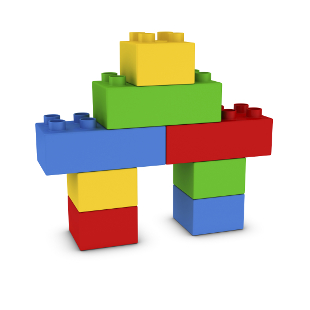 With the 8 radicals we can start to form words and even sentences.
A few examples;
Let's start with person. If there are two people next to each other, it means following. If you put a third person on top, it means crowd. If a person opens his arms widely as if saying 'it's this big' it means big.
If two trees are together it means woods. If you put three trees, it means forest.
If there are two fire characters together, it means it is VERY hot. If you put a tree on top of two fire characters, it means it's burning.
Fire + Mountain = Volcano
In sum, you add characters to characters and build new words, idioms and sentences.
To find out about Chineasy system and learn Chinese, you first visit the Chineasy webpage and the Facebook page. If you're impressed and want to learn more, you can buy the Chineasy book that will be on sale on March 11th. Have fun!