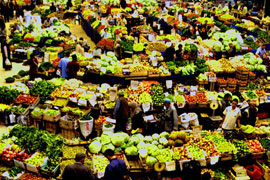 I recently watched two TED talks by Robert Neuwirth, a journalist whose main interest and focus lie on
squatter
cities and
System D
or commonly referred as
informal economy
. The first talk dates back to 2005 and gives vivid examples on squatter neighborhoods in Mumbai, Rio and Istanbul.
In my opinion, Istanbul is synonymous with neighborhood bazaars and street vendors. As Istanbulites we're used to hearing street vendors screaming 'these are the freshest fruit Sister, come to my stand!' Most of our mothers and aunts do grocery shopping on a particular day of the week because their neighborhood bazaar operates that day. We all buy things from street vendors; from corns to chestnuts, from dvds to clothes.
The informal economy stretches on informal habitation. In fact, squatters became the reality of contemporary Istanbul as the metropole gets extensive migration from Anatolian cities. Even the most prestigious neighborhoods of Istanbul like Bebek, Nişantaşı or Yeniköy have squatters within a 5 km radius. From urban planning to socio-economic reasons, most of us see squatters as a threat to urban development. However, whether we like it or not, they're a part of urban reality.
Neuwirth is excited about this urban transformation: he believes in engaging and empowering these poor communities by enhancing living conditions and providing work opportunities. He gives Turkish squatters as a notable example of transforming these less fortunate communities into self sufficent mini cities. He thinks that Turkish 'gecekondu,' literally translated into 'built overnight' law, which lets people build a house overnight. Unless you're caught in the middle of the night building the house, you cannot be evicted without due process of law. The other legislation that makes these squatters easily established is that once a 2,000 people gather as a community, they have the right to petition the government to be recognized as a legal sub-municipality. A sub-community can represent itself within the government, collect taxes and provide municipal services. Neuwirth adds that the welfare level and modernity of Turkish squatters are not comparable with the slums in India or Brazil. He gives the example of Sultanbeyli where there is a sense of design. As squatters are built overnight, there is always possibility for expansion towards the upper stories or adding a balcony or terrace.
When we talk about global economy, we always refer to the luxury economy. According to Financial Times, it's worth 1.5 trillion dollars every year. A huge sum of money yet it does not include 1.8 billion people in the world. These people do work and produce but in an alternative market that is unregulated and informal. Neuwirth suggests that if we were to unite these people in a single political system, one country, – and he proposes the following names "The United Street Sellers Republic," the U.S.S.R., " or "Bazaaristan,"- it would be worth 10 trillion dollars every year. In other words, the second largest economy in the world after the United States.
As potential business owners and entrepreneurs, we tend to only look into opportunities within the luxury economy. However, we're missing out a huge market. With faster growth in the emerging markets – emerging squatters in Turkey's case, this informal market will become wider and stronger, the buying power of its people will increase. Maybe it's time for us to look into our society in order to find new emerging markets.
By Ela Erozan Gürsel