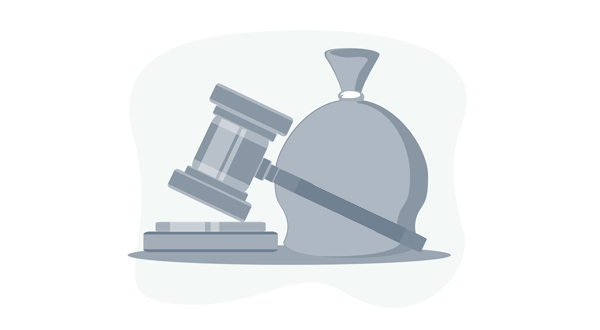 Those who do not comply with the legal regulations are subject to administrative fines. The monetary fines are determined every year based on the minimum wage. Upon declaration of the minimum wage for 2022 as 5,004 TRY, administrative fines on businesses that do not comply with the provisions of the Labor Law No.4857 are updated as follows:
4857 Labor Law
Subject
Penal Sanction Code
Act Requiring Penalty
Penalty Fee
3
Obligation to notify the workplace
98
Separately to the principal employer and sub-employer or their representatives who notify the workplace in the second paragraph of the article with a pretense (whose notification about the sub-employer is falsified).
47,410 TRY
5
Equal Treatment Principle
99/1 -a
For every worker whom the employer does not treat equally.
398 TRY
7
Temporary Work Relationship
99/1 -b
For every worker whom the employer violates the provisions of temporary employment.
665 TRY
8
Mandatory document to be given to the employee in the absence of an Employment Agreement
99/1 -c
For every worker who is not given a document regarding the working conditions.
398 TRY
14
Remote work or on-call work
99/1 -c
For every worker whose employer does not comply with the provisions of the on-call procedure.
398 TRY
28
Certificate of Employment
99/1 -d
For every worker who has not been given a certificate of employment even though s/he has left the job or who has incorrect information written on the certificate of employment given.
398 TRY
7/f
Temporary Work Relationship – Unforeseen Increase in Production
99/2. fıkra
To the employer or employer's representative who employs temporary workers against the stipulated principles and obligations – for each worker.
2,665 TRY
29
Mass layoff
100
For the employer who dismissed workers by acting against the provisions of collective dismissal, for each dismissed worker.
1,559 TRY
30
Obligation to Employ Disabled and Former Convicts
101
Although the employer is obliged to employ a disabled worker, for each disabled worker he / she does not employ and for each month.
5,918 TRY
32
Non-payment of wage
102/a
For each employee whose wage is not paid in case of deliberate failure to pay or underpayment of the wage arising from the collective labor agreement or the labor agreement – for each month.
429 TRY
39
Minimum Wage
102/a
Failure to pay the minimum wage and other wages, premiums, bonuses and all kinds of remuneration in full that are required -and it is not deposited in a specially opened bank account-.
429 TRY
37
Payroll
102/b
Not to process payroll
1,559 TRY
38
Wage cut
102/b
Wage cut implemented against the labor law.
1,559 TRY
52
Documentation of percentages
102/b
In the workplaces where the percentage method is applied, the document showing the general total of each account statement is not given to the representative chosen by the workers.
1,559 TRY
41
Overtime pay
102/c
For each worker who is not paid overtime, does not use the free time he deserves within six months, and works overtime without his approval.
756 TRY
56
Annual Paid Leave Application
103
For every worker whose annual paid leave is illegally divided.
756 TRY
57
Annual Leave Fee
103
For every worker whose annual leave pay is illegal or underpaid.
756 TRY
59
Leave Fee at Termination of Contract
103
For each worker who is not paid the leave s/he did not use at the end of her/his employment contract.
756 TRY
60
Regulations on leave
103
For every worker who has not been granted leave or granted less leave than the permit regulation specifies.
756 TRY
63
Work period
104
Not complying with the provisions of the regulations regarding work periods.
4,173 TRY
64
Compensatory work
104
For every worker employed without complying with the provisions of the law regarding compensation work.
756 TRY
68
Rest break
104
Rest breaks are not given according to the provision of law.
4,173 TRY
69
NIght time and night work
104
Making workers work for more than 7.5 hours a night, not changing their day and night shifts.
4,173 TRY
71
Employment age and prohibition of child labor
104
To act contrary to the provisions of employment age and prohibition of child employment.
4,173 TRY
72
Prohibition of operating under ground and under water
104
To employ male workers under 18 and female workers of all ages underground and underwater.
4,173 TRY
73
Prohibition of night work
104
To employ children and young workers at night, acting contrary to the provisions of the laws and regulations on the prohibition of employment.
4,173 TRY
74
Maternity work and lactation leave
104
Not giving unpaid leave during the prenatal and postnatal periods to female workers.
4,173 TRY
75
Worker's personnel file
104
Not arranging employee personal files.
4,173 TRY
76
Failure to comply with regulations
104
Not to comply with the provisions of the regulation on working periods
4,173 TRY
90
Mediation to find work and workers
106
Engaging in employment and employment activities without obtaining permission from İş-Kur. (based on the Employment Agency Act No. 4904 of Article 20 (h))
37,929 TRY
92
Authorized authorities and officers
107
Not cooperating with labor inspectors, not giving statements and information, not showing and giving necessary documents and evidence, not showing the necessary convenience to the inspectors.
37,929 TRY
96/1
Employee and employer's responsibilities
107
To force workers whose expressions and information are consulted by labor inspectors to hide or change the truth.
37,929 TRY
96/2
Employee and employer's responsibilities
107
The workers' making unnecessary acts or unfairly misconduct the employer by giving false news, making it difficult to carry out inspection and inspection, and engaging in malicious acts.
37,929 TRY
107/2
Non-compliance with the Provisions Regarding the Inspection and Inspection of Business Life
107/2
To prevent labor inspectors from performing and concluding their inspection and inspection duties.
37,929 TRY
Note:– The amount of administrative fines to be applied is increased annually at the revaluation rate and amounts below 1 (one) TRY are not taken into account. – The revaluation rate for 2022 has been determined as 36.2 %.