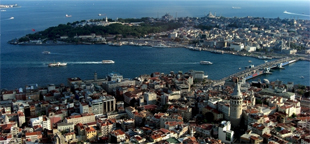 By Klaus Jurgen
Measuring the quality of life in any city or town is a complicated scientific task. While necessary, over-focusing on questions such as "Are you happy?" will not automatically lead to making correct assumptions about a town's range of amenities or infrastructure development!
While some argue that the size and comforts of one's private home are crucial, others say easily accessible cultural attractions are a decisive factor. In this context, a new report published on Friday ranks various cities located in different countries. İstanbul came in 28th.
Readers of this column will be aware of the fact that I seldom mention private companies as our business pages might be better suited for that. However, A.T. Kearney's "Global Cities Index" (www.atkearney.com) is one such exception, as it addresses issues relevant not only to İstanbul but to Turkey in a wider sense. It is not your average standard opinion survey — far from it!
Not surprisingly, New York, London and Paris occupy the number one, two and three positions. Let me share with you why the results offer enormous food for thought.
Eighty-four cities situated on all continents were analyzed according to five dimensions: business activity, human capital, information exchange, cultural experience and political engagement.
In a related ranking released on the same day as part of the same study, İstanbul ranked 15th on the "Emerging Cities Outlook." Hence, if what A.T. Kearney has found is true and while İstanbul is still an "emerging city," it has at the same moment entered the league of global cities in more general terms. So one could ask the question of whether this implies that İstanbul is "already there" or whether İstanbul needs to do more to leave the emerging-cities label behind and become a global city, a brand in and of itself?
With a view to learning more about İstanbul's potential, Michael Weiss, A. T. Kearney's managing partner for Turkey, explained: "The improvement of İstanbul's rank since 2012 is linked to marked improvements in the city's business activity and cultural exchange, and with a 15 rank on the 'Emerging Cities Outlook' it is clear that İstanbul is likely to climb higher in the years to come. İstanbul is increasingly leveraging its position as Turkey's commercial capital and recovering its prominence as a center of political, business and cultural activity at the crossroads of Europe and Asia."
The tricky side of all rankings starts with coming to terms with a certain chicken-and-egg dilemma. In other words, what was here first? Do the people who populate a city wait for business to follow suit and offer employment opportunities, or alternatively, do companies relocate to a particular city or region to simultaneously attract current and future jobseekers?
In the case of İstanbul the situation is even more difficult to fully grasp. There had always been a migratory trend to the city even if prospective residents knew that while they were coming here looking for work, perhaps there would be none to be found. Many simply followed in other family member's footsteps (often moving in with them, too!) hoping for the best or at least better conditions when compared with where they originally hail from. So one could argue that in this case neither the egg nor the chicken came first — they arrived consecutively, albeit over many decades. More people, many of them supposedly jobseekers, brought more businesses along, and more businesses in turn attracted even more new individual arrivals.
According to this report, İstanbul managed to improve its status as Turkey's business hub, continuously attracting some of the country's best-qualified graduates as well as highly skilled manual laborers.
Of course, İstanbul deserves the spotlight. Yet other Turkish cities might want to reposition themselves regarding human capital, culture, infrastructure and additional domestic and foreign investment, too. Reports like the one I featured in this column and its conclusions may help other Turkish cities to achieve just that.
Source: Cihan/Today's Zaman