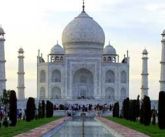 Mother India… Land of rich history, heated politics and rising giant IT corporations but also home of vivid colors and spices, warmhearted people and incredible monuments and landscapes…
India is a huge land of controversy: It is one of those places in the world where you can see the most exquisite pieces of diamonds, emeralds, and rubies adorning the forehead of a gorgeous Indian lady and the poorest child you could imagine walking bare feet begging just a few feet apart from each other. It is the place of incents, milk and arali, vilvam or lotus flowers dedicated to Gods and Goddesses with morning and evening rituals. It is the birthplace of Bollywood movies, which make viewers laugh and cry with funny dances, social burdens, innocent dialogues and colorful saris.
The capital New Delhi offers the same kind of striking surprises: The large avenues built by the British during the colonial era remind me of Pennsylvania Avenue in Washington DC and Piazza Collonna in Rome. The parliament, embassies and houses for government officials along the way take you to another world: Clean, organized, well governed. Then the same road leads to the old city where you witness the Old Delhi with common people in action, street sellers, construction workers and breath mixed odors of spices, dirt, heat and humidity.
This is the picture of chaos. It is an exciting world where everyone performs his role, the poor and wealthy, the lazy and hard worker, low caste and high caste, the starved and satisfied, the traditional and modern live together in a weird harmony.
I believe that the coexistence of these sharp contrasts play an important role in understanding India's economic rise today. Indian culture is a fusion of many beliefs, traditions, thoughts and people that had lived, passed by or dominated the Indian subcontinent along centuries. Today's India proudly embraces this multicultural identity and puts this powerful strength into action in the business world. One quality that I admire the most in every Indian men and women I meet is that they are proud Indians. Regardless of their profession, status or education, Indian culture is a living tradition of everyday life and business where victories are celebrated, struggles and defeats are dealt with, and resistance is formed.
How does this Indian identity apply in contemporary Indian companies' success? The book review by Stefan Stern from Financial Times published on March 31, 2010 gives some good insights of the Indian management model.
The newly released 'The India Way' by Peter Cappelli, Harbir Singh, Jitendra Singh and Michael Useem argues that new generation Indian companies are revolutionizing management. The four Harvard professors from the Wharton business school have conducted an extensive study by interviewing more than 100 top Indian executives from well-known Indian corporations including Tata, Wipro, Infosys and attempted to understand what makes the Indian business and success different.
According to Stern, the book is a realistic appraisal where the presence of corruption and malfeasance in Indian companies are acknowledged and effective management innovations are analyzed. Taking into consideration the recent economic liberalization in early 1990's, India is a transformed country with on-going evolution. According to the authors, India's struggle to emerge to take its place in the modern world has helped create a generation of hardened yet creative business leaders.
The four principal practices that make up "the India way" are 'a holistic engagement with employees; improvisation and adaptability; having creative value propositions; and a broad mission and purpose' the authors say. Indian businesses dedicated focus on performance and human resources puts them in advantage compared to their US counterparts. Initially, Indian companies attract clients for low costs but retain them for higher service capabilities.
I truly like a quote by R.Gopalakrishnan, the executive director of Tata Sons that Stern took from the book: "We think in English and act in Indian."
I haven't read the book yet but am excited to read it after Stern's review to further explore the Indian way of business. I think that such business revolutions could be noteworthy for Turkish businesses to evaluate and take lessons in order to transform our own business models and become global companies. India's transformation started 20 years ago and made India a global brand in technology outsourcing. Its cheap services attracted many global companies as clients but quality in service kept the clients on board.
Why doesn't Turkey create its own brand? Why don't companies and entrepreneurs act immediately?
Let's start today by being proud of our unique cultural heritage and select a field in which we would like to be world experts then pursue it and become a global name in 20 years. All we need is dedication, hard work and belief in ourselves.
---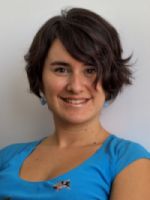 Ela Erozan Gürsel writes a weekly column named "Değişim Yelpazesi " on global business trends for Dünya Gazetesi on behalf of Datassist for almost two years. Her feature topics include: green energy; climate change; impacts of financial crisis on companies, sectors and regions; innovative technologies in sciences, human resources and management; social networks transforming business and politics; changing dynamics of marketing and branding.
She also writes articles for international magazines published in Singapore.
Prior to her writing career, she worked at Datassist as a Project Manager in a project that combines human resources and mobile communications with the aim to connect blue-collar workers and employers through mobile phones. Before engaging in this exciting project, she was in pharmaceutical sales working for a multinational company. She graduated from American University, Washington, DC, majoring in International Studies with a concentration on International Business and Europe. She worked in Washington D.C. as an Account Manager at a boutique telemarketing firm that specializes in fund raising and publication renewals. She speaks Turkish, English, French, and Spanish. She currently resides in Singapore with her husband.