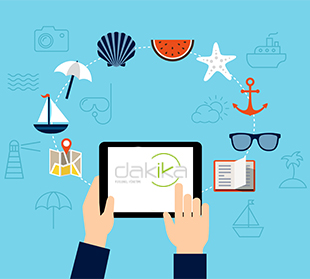 It is about time for the employees start taking their vacations as the traditional holiday season summer is approaching, and HR departments are getting busy scheduling the annual leave of personnel without obstructing the continuity of business and productionthroughout the leave season. So it is time to refresh our/your knowledge on the regulations and main points ofannual leave in Turkish legislation.
Annual leave can defined as the paid number of days each year that an employee isallowed to be away from work for vacation, rest and relaxation. In Turkey annual leave procedures and principals are arranged in Articles 53 and 62 of Labor Law, No. 4857.
SCHEDULING THE ANNUAL LEAVE
For workplaces employing more than 100 employees it is obligatory to constitute an "Annual Leave Committee," comprised of representatives of employers and authorized for planning annual leave. And in the workplaces employing less than 100 employees planning may be made by employers or employers' representatives or persons authorized by them.
Planning may vary according to sector, the way work performed, but in any case it cannot be in contradiction with the above mentioned Law and Regulation.
Written requests for entitled paid annual leave should be submitted to the employer at least one month prior to the date at which employee wish to start his/her paid leave. The request should contain; the employee's name, surname and registration number, if any; the dates between which employee wishes to take his/her leave; and whether employee will take or not an unpaid leave to cover the round-trip travel time.
Employer is not bounded with the start and end dates of the leave demanded by employee, and may determine different dates by taking into account the continuity and regularity of operations in general, order of precedence as regard to seniority, or the special issues pertaining to employer's workplace. But that does not mean employee cannot take his/her paid annual leave in the relevant year.
ANNUAL LEAVE PERIODS
All employees who have worked for at least one year including the probation period are entitled to paid annual leave; and leave periods, which is determined according to employee's length of service, may not be shorter than the durations herein below:
Length of Service Minimum Leave Period
1 to 5 years (included) 14 working days
5 to 15 years 20 working days
15 years (included) or longer 26 working days
Paid annual leave may not be less than 20 days for employees under the age of 18 or over the age of 50.
In addition, employees are also allowed to take up to 4 (four) days' leave without pay, on condition that the employee provides documentary evidence that s/he is spending his/her annual leave at a place other than where the work place is located.
Other kinds of leave, with or without pay, granted by the employer during the year or taken by the employee as convalescent or sick leave shall not be deducted from annual leave.
Employees engaged in seasonal or other occupations which, owing to their nature, last less than one year are not entitled to paid annual leave.
Employees' paid leave entitlements and the leaves taken should be recorded and the documents in respect to leaves must be signed with both employee and employer.
If the employee leaves before completing one year of service there will be no annual leave on pro rata basis.